| | |
| --- | --- |
| | Avi4Bmp© |
Release 2.4.2
Avi4Bmp is a tool to convert an AVI, an MPG or a GIF to one large PNG (or BMP) 32bit file with all the frames in rows and columns.
Perfect for BlitzBasic© LoadAnimImage()!
Convert a GIF from this:

-->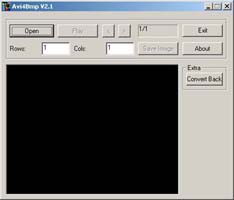 --> to this: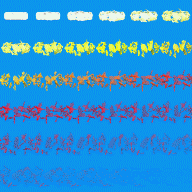 But you can do the exact opposite!
Read a grid with an image, and build back an AVI, or separate it in multiple PNG files!
It's not over, the "Convert Back" function allows you to split a big image in tile, saving them as a png sequence.
New feature added in 2.4: now it's possible to save a sub sequence of an AVI. See an example here.
Known limitations: several AVI codecs doesn't support 32bit images, so if you want to build an AVI, remember to reduce the bit depth to 24.
download Avi4Bmp